Welcome to our Newstead, Launceston Remedial Massage Studio.
Our home based studio in Newstead is now open and you can book your next treatment online.
As it is a home based studio please arrive only five minutes before your scheduled appointment. Please walk up the driveway to find the studio at the back door of the house.
This is strictly a professional service
Service Price

Private Health Fund Rebates apply.

1hr Remedial Massage / Pregnancy / Cupping / Hot Stones

40min Remedial + 30 min Sauna Studio Package

$95

$110
Massage is a great way to reduce muscle soreness and tightness. It can aid your recovery from injury and can help people that suffer from:
Headaches and neck pain

Hip and leg pain

Pain between the shoulder blades

Lower back pain

Shin splints, ITB tightness

Tendonitis

Chronic inflammation

DOMS (delayed onset muscle soreness from exercise
Remedial Massage
Widely regarded as an effective form of manual soft tissue therapy. Known to reduce the symptoms of pain and increase functional movement. The treatment itself may involve deep tissue work for short periods of time, but the results are definitely worth it!
Conditions such as sciatica, carpal tunnel, stiff necks, headaches, sports injuries and many more can be eased from a Remedial Massage treatment.
Relaxation Massage
Helps de-stress and loosen up your body and is great for those who have had a hard working week or feel like treating themselves to some TLC! The treatment consists of flowing strokes, kneading and gentle manipulations of the muscles performed at your chosen pressure. It is a pain free way to relax both your muscles and your mind.
Sports Massage
Will often utilise a variety of modalities such as remedial massage, trigger point therapy, cross fibre techniques and deep tissue work.
Pregnancy Massage
A more relaxing treatment. The massage therapist adapts their techniques to address changes a woman goes through during her pregnancy.
Pregnancy Massage is just as important for mother as it is for the child.
Please discuss your needs with our massage therapists and they will tailor a treatment for your individual changing needs during this amazing time of your life.
Hot Stones
Heat has long been used to ease muscle tension and pain. It helps increase blood flow to the affected area. It may also reduce muscle spasms and increase flexibility and range of motion.
Cupping
Cups disperse and break up stagnation and congestion by drawing congested blood to the surface.
"Where there's stagnation, there will be pain. Remove the stagnation, and you remove the pain."
Chinese cupping is a method of breaking up the blockages from congestion, stagnation, and blockage of Qi, or vital energy, vital fluids, phlegm, and blood, to restore the body's natural flow of energy.
Infrared Sauna
There's nothing quite like a 20-minute sweat session in a sauna.
Our sauna is single person use only so you don't have to share your sweat session with anyone. Your 20 minute sweat session will help you to relax, loosen up stiff or tight muscles, reduce joint pain, and give you some much needed time to yourself.
Far-infrared sauna use is safe and effective for increasing lactation in breastfeeding mothers.
Here are some tips to get you started.
Drink water. Make sure you're hydrated before going into an infrared sauna. Drink a glass of water before your session. You can also bring water into the sauna, especially if you're sensitive to higher heats.

Avoid alcohol and medications that may impair sweating and produce overheating before and after your sauna.

Clothing. How you dress is your choice. Some people will wear bathing suits or shorts. We have clean towels for each session.
Please note:
Avoid using an infrared sauna if you've been drinking alcohol. If you feel sick or have a fever, it's best to wait to use the sauna until you're feeling better. Using an infrared sauna will cause you to sweat a lot, so you may feel lightheaded when you stand up. If this happens, make sure you get up slowly and sit down once you leave the sauna. Drink water immediately after finishing your session and wait for your body to cool down before doing anything else.In extreme cases, some people may experience overheating (heat stroke and heat exhaustion) or dehydration. If you have any health conditions such as high blood pressure, heart problems, or are under medical care, get cleared by your doctor before your first session. Even though infrared saunas have been found to be fairly safe, you don't want to take any chances when it comes to your health and safety.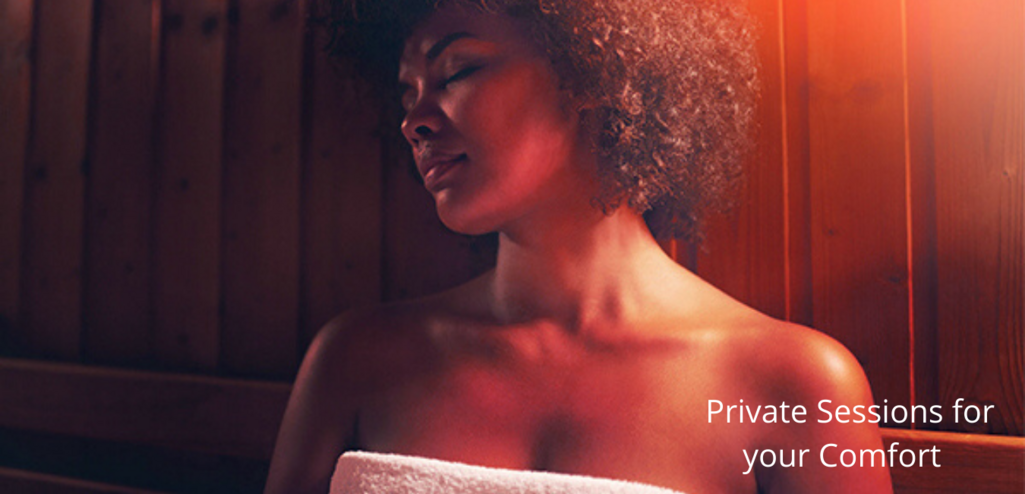 ---
Our Therapist
Jeanette completed her studies of Remedial Massage in 2009 at QAcademy in Brisbane. With a strong passion for helping people and through being heavily involved in basketball and yoga, Jeanette's interest in health and fitness was what drove her to become a Remedial Therapist. She learnt the benefits peoplecould gain from it and liked the idea of being able to help people perform at their best and help prevent injury. Jeanette has worked with a wide range of clients from the elite athlete to the weekend warrior so whether you store tension in your shoulders and neck, or you're training for a race or completion and have the world's tightest calves, or just need a rejuvenating massage, book in for a Remedial /Deep Tissue or Swedish Massage tailored to suit your needs.